A warm welcome to my site, and thanks for visiting.
We all need support in our life sometimes, or to have space to talk about our concerns.

There could be so many reasons as to why you are here right now. Perhaps you feel stressed or anxious; low in mood or motivation; or feeling grief from a loss or life changing event. You may want to work on being more confident within yourself - perhaps socially, or better able to assert your point of view. Family dynamics or inter-relationships can also cause us concern or distress. It could be that it is hard to even understand how you are feeling, and may well want to make sense of it.

Whatever the reason is that you are seeking support right now, my priority is to help you feel safe and at ease for you to share whatever you feel comfortable with.



Counselling and Cognitive Behaviour Therapy. In Person Service in Central Glasgow & On-Line











My name is Linda Hardy. I am an experienced Counsellor & Cognitive Behaviour Therapist (CBT), working from a comfortable space in Glasgow City Centre. I am conveniently located right next to Glasgow Central Station, and just a 10 minute stroll away from Glasgow's Queen Street Station.

I qualified with a Masters degree in 2011, and I have been a practicing as a therapist since then.

I invite you to scroll down the page to read more about my service and what I can offer you. If you think you may want to book a service with me, please do not hesitate to get in touch should you wish to ask anything at all.



My philosophy is that we are our own best helper. Through counselling, you can work towards understanding yourself better, and discover helpful tools and coping strategies
My Service Could Help You To
Offload anything that is on your mind in a friendly and supportive space
Gain insight about how your thoughts, feelings and reactions impact on you
Find tools and strategies to help you live with more ease now, and in the future
Release built up emotions that you have been holding down
Gain some clarity about how events from the past may be influencing you today









Some of the areas I can help you with
Grief / bereavement therapy
Anxiety and stress
Fear
Panic attacks
Help with addiction (food, alcohol, drugs, gambling)
Low self confidence / low self esteem
Depression / feeling sad
Talking through family issues or within relationships
Working through emotions, such as anger, guilt or hurt
Putting undue pressure on yourself
Procrastination
Going out of your comfort zone
Be more assertive

Click here for more information about my service and how I would approach my work with you.
Each and every enquiry is answered, usually within 1 working day
Most of my correspondence and enquiries are answered within 1 working day (Monday - Friday). However, unfortunately, sometimes replies go back into recipient's junk folders.

If you are waiting to hear back from me at any time, then please do check your junk or spam folder - just incase!



Taking COVID into consideration
As we are 'moving forward' through COVID, it is common for people to feel concerned or apprehensive about the continued risks, which is totally understandable. I have set out my room to ensure that we are as safe as possible, whilst providing a warm, welcoming space for us to meet.

If you have any concerns about booking an in-person appointment, please do not hesitate to contact me to ask anything at all about the safeguards that I have in place..


Click here to read my COVID safeguarding policy



Fees
Sessions are charged at £45 per session - lasting between 50-60 minutes.



Free Telephone Consultation
It is never easy trying to find somebody you can trust to talk to - especially if this is your first time 'taking the leap'. Therefore, it is important that you feel comfortable with whoever you choose. So, before booking an initial appointment, I offer a telephone consultation first, which can last for anything up to 30 minutes.

This would provide an opportunity to ask me any questions you may have about counselling, or about what to expect from the sessions.

More importantly, it will give you a sense of whether you feel comfortable having me as your counsellor. There would be no obligation to book a follow-on service.

E-mail me here at Counselling-Glasgow to request a consultation.
please do include what days and times would suit you best for me to call



Location
Counselling in Central Glasgow, adjacent to Glasgow Central Station

111 Union Street, Glasgow, G1 3TA

My therapy service in Glasgow City Centre is conveniently located right next door to Central Station, and a few minutes walk from Glasgow Queen Street Station. It is also close to them main transport links in the centre of the city, such as Buchanan Street and St. Enoch Subway Stations.

Find me just off Gordon Street, right next door to the Shelter shop, and a couple or so doors away from the Union Street entrance of Central Station.

Being in the heart of Glasgow, and so close to many transport hubs, it means that my service is easily accessible to outlying towns - such as Stirling, Falkirk, Paisley, East Kilbride, Largs, Irvine and Ayr.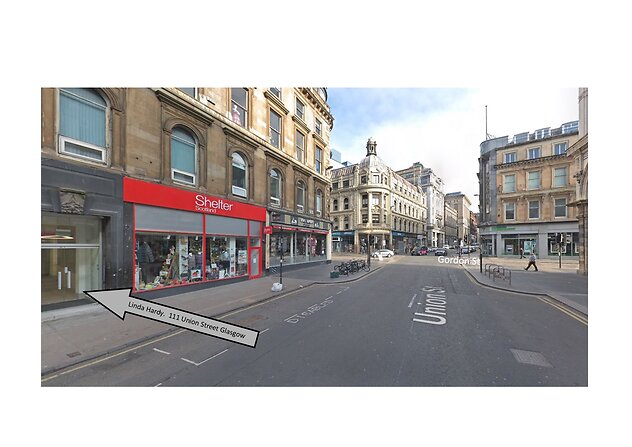 Click For Map to therapy Service from Train and Underground Stations in Glasgow City Centre



Parking for Counselling - Glasgow
If you are driving, there are a range of parking options that are easily accessible.

Map For Car Parks in Central Glasgow



Counselling in Central Glasgow and On-Line Therapy appointments are available in the evening

If your work schedule means you can't make daytime appointments, I offer early evening slots starting right up until 6.30 p.m.
Support Yourself Blog
Helping You to Help Yourself

As a therapist, I am passionate about helping people work towards being their own best helper in the future. Indeed, the work we do on ourselves never ends, and is a continuous journey throughout our life.

I have written a range of short articles in Blog format about areas that I believe are common to many of us that may be a source of information and support to you. I will continue to add new content regularly.

Articles currently available are

Help for Low Mood and Depression
Understanding and Coping with Bereavement
Understanding and Managing Stress and Anxiety
Introduction to Cognitive Behaviour Therapy: Utilising it into Everyday Life

Click here for Support Yourself Blog



Introduction to Cognitive Behaviour Therapy
You may be seeking out a Cognitive Behaviour Therapist, or want to know more about what CBT is all about.

I have written a short, accessible blog page that might help you to get a better understanding about CBT. There are some links to external sites that may assist as well.



Please scroll to the bottom of page for updates, and visit Support Yourself' on the menu bar above for an introduction to all of the articles



Join the discussion
Support Yourself is in a Blog Format, so it allows space for comments. Feel free to join the discussion

I will be posting updates regularly about new articles at the bottom of this page - so please do come back again.



Counselling in Glasgow on Facebook
My Facebook page compliments the work I do, and I regularly post articles on my Facebook page that inspire me personally, and that hopefully will inspire others.

Linda Hardy: Counselling in Glasgow Facebook page.

Feel free to engage, comment or share anything featured there.



Thank you for visiting
Please do not hesitate to get in touch via e-mail to ask any questions you may have; or to book a phone consultation.

I very much appreciate you taking the time to check my site out.

Yours sincerely,

Linda Hardy
Counselling - Glasgow